THE NEW TAX GUIDE FOR WRITERS, ARTISTS, PERFORMERS & OTHER CREATIVE PEOPLE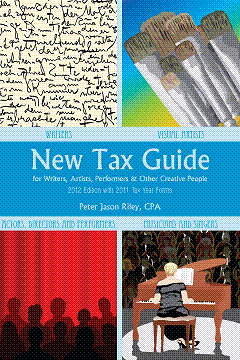 CLICK HERE to order from Amazon.com



CLICK HERE to order from Barnes & Noble


The New (5th Edition) Tax Guide forWriters, Artists, Performers & Other Creative People, by Peter Jason Riley, CPA is the only complete tax guide available specifically for the working artist. Now in its fifth edition, available January 2012 from Focus Publishing.
My goal in writing this book was to give the artist an overall understanding of the unique aspects of taxation for people in the arts. By reading the book and using my deduction checklists I want you to do a better job at collecting the data through the year and be better prepared to present your tax information to your income tax advisor. Real life examples illustrate the many situations an artist may encounter. By understanding your specific situation you will be better prepared to choose an appropriate income tax advisor.
Keep in mind that no matter how good your tax advisor is, YOU are the one who has to develop a basic understanding of your taxable income and what is deductible, so that you are saving the proper receipts and documentation for your tax return.
Four artist friends, whose professional lives illustrate many examples throughout the book, demonstrate the unique business and tax aspects of being in a creative endeavor. The reader walks through a full year of their activities as artists and the tax implications of their work.
Our four artists are:
The book contains the following chapters:
Income

What type of income is it and Why? ~ Employee Wages vs. Contract Income
The mysteries of the W-2 revealed
In search of Form 1099
The joys of being self-employed
Estimated taxes




What can I Deduct?

The Automobile
The Home Office
Equipment Purchases and Depreciation & Amortization of Recordings, Films & Books
Travel and Meal Expenses
Use of the IRS Per Diem rates
Entertainment Expenses
Substantiating your Deductions for Travel, Meals & Entertainment
The "QPA" ­ Qualified Performing Artist
The "Hobby Loss" Issue
Start-up Costs




For Actors, Directors, Dancers and Other Show Biz Folks Only

For Musicians and Singers Only

For Visual Artists Only

For Writers Only

Setting Up a Business Entity

The Sole-Proprietorship
The Partnership
The Corporation
The Limited Liability Company
When and Which Entity Would the Artist Set Up?




The Audit Process, Record Keeping and Your Taxpayer Rights

MSSP ­ The IRS Audit Training Manuals
Audit Etiquette
Record Keeping
Your Rights as a Taxpayer




Choosing a Tax Advisor

Tax Planning

Timing your Deductions
Retirement Planning

In Closing
The reviews are in…here's what readers are saying:
"It does an excellent job of demystifying the tax world for people who tend to not be naturally analytical."

- Read Jared Nathan Garrett's complete review as published in The Academic Author.


For too many years, CEOs, lawyers, lobbyists, financiers, and other fat cats have tapped top tax advisers with insider tax tricks to drastically cut their tax bills—and soak everyone else. Peter J. Riley is the expert tax adviser for the rest of us. He levels the playing field for us writers, artists, actors, musicians, and other creative folks. Peter may not make you a millionaire, but he can make you think and calculate like one come tax time. He knows all the creative but legal tax strategies and secrets to reduce your tax burden so you can quickly get back to doing what you do best—with your money still in your pocket. Better yet, he explains all these strategies and secrets in plain, easy-to-grasp language that makes complete sense to the average, semi-numerate person like me. Reading Peter's new tax book is almost your patriotic duty!

- Mark Hoffman - Roots-music writer and co-author of "Moanin' at Midnight: The Life and Times of Howlin' Wolf" (www.howlinwolf.com)


Peter's book has been an enormously helpful tool for me. The ever-changing world of tax guidelines for artists confounds me, but the language Peter uses helps to simplify for those of us who are 'tax-challenged'. I can't imagine using any other source...well, except the man himself!

- Natalie Brown, Equity actor


This extremely helpful book has given me tools I was sorely lacking. Without Peter Jason Riley and his illuminating tax guide, I would be an anchorless ship on the high seas of finance!"

- Andre Dubus III – Novelist


Peter Riley not only saved me thousands of dollars in tax payments, but he also saved each of my band members thousands. He knows the ins and outs of entertainment tax law and we are all in a better place financially because of it!

- Trevor Phipps – Songwriter & Lead Singer for Unearth


It is wonderful to have an accountant who understands the individual needs of creative people

- Holly Black – Novelist


Peter Jason Riley is a master of his craft and has been an indispensable part of our music industry team for over a decade. Taxes don't have to be as painful as dentistry anymore. Peter's approach will give peace of mind. It's a must read for everyone!

- Anthony J. Resta - Musician & Record producer


Peter's knowledge and advice has saved me an immense amount of money and time. He is the best out there for professionals in the arts!

- John Relyea – Bass-Baritone Opera Singer


As a part-time writer in desperate need of tax assistance, I read Peter Riley's book in one breezing sitting. It was a great help in opening my eyes, full of little-known facts, figures, and even humor to help any contributor to the arts. Thank you, Peter!

- Rick Coleman – Writer and biographer of Fats Domino


Peter Riley has done our band as well as our personal taxes for at least ten years and has been equal parts attentive, kind, dependable and cool. (I mean, when do you ever get to say that about your accountant?) Even if you don't earn much money, he'll make you feel like a million bucks. Here's to our next ten years together!

- Margo Hennebach, Mark Saunders and Mad Agnes


The New Tax Guide is an invaluable resource for anyone making a living in the arts. Peter's advice is clear, easy to understand and a financial life-saver.

- Elizabeth Moloney – Equity Stage Manager, NYC


As a writer and editor, numbers have never been my strong suit. I owe a lot to Peter and his incredibly informative, accessible website — consequently (and thankfully), I don't owe as much at tax time.

- Kara LaReau – Author & Book Editor


Peter Riley rescued my band and I from a complete financial meltdown, I would recommend him to anyone trying to make a living as a musician.

- Buz Mcgrath – Guitarist for Unearth




© Copyright 2001-2016
Riley & Associates, P.C.

978.463.9350
All Rights Reserved
---
Site Designed and Hosted by
NetCasters, Inc.
978.887.2100